Andrea Webb is a Subtle Energy Medicine Practitioner, using crystals, energy, colour, flowers and flower remedies to empower spiritually curious women interested in the deeper meaning of life.  In this interview, Andrea shares insights into her journey and key advice for finding balance and maintaining positive energy.
Could you tell us a bit about your journey and what drew you to crystal healing?
I live near Salisbury, UK where I've been for 3½ years, and previous to that lived on the outskirts of London, where I worked in the corporate world for many years, predominantly in the minerals and oil & gas sectors.  During many of those years I gained several diploma qualifications in various healing modalities, as well as attending short workshops in other spiritual and esoteric subjects.  I initially took on clients alongside the day job and began teaching during that period also.
Crystal healing was a surprise to me as my initial interest in the healing world lay elsewhere.  It was during a one-day workshop that I was given a very strong message that I needed to include crystals in my toolbox.  Working with a partner, I was holding a rose quartz wand and received a huge surge of energy from my hand going up to my elbow.  It felt almost like an electric shock.  It was at that point that I realised that crystals were going to be part of my world.
Consequently, I trained as a crystal healer and added that modality to my repertoire.  I also did further post-graduate training, giving me the title of Subtle Energy Medicine Specialist.
What's the most significant change you've felt in yourself since you developed this practice?
Crystal healing works on the cause of an issue, which may be an ingrained thought pattern or obsolete belief system.  This can be from the current lifetime or a past lifetime.  Something to note here is that whenever something effects the physical body, it becomes a symptom.  The location of a symptom often has no relevance to the actual cause of an issue.
The most significant change I've experienced in myself had to have been during my two-year training, where the other students and I practised on each other regularly as part of the course, often with more than one healer working on the 'client'.  It was during this period that several long-held beliefs were transmuted, and I effectively became a different person.  I no longer had worrying, repetitive thoughts circling around my head, and found myself much calmer and living in the now, in the present much more.  The real proof was when faced with a particular situation, I found myself responding to it differently than I would have in the past.  It was a significant enough change for my mum to comment on it.
Since completing my initial crystal healing training many years ago, I have experienced some amazing healings, using a variety of crystals which have helped me enormously during difficult situations.  One of these times was during the conveyancing connected with my move to Salisbury.  Things were being held up and I had to make sure that energetically I wasn't holding anything up.  Things started moving quite quickly following this healing.
Crystals can be used in specific ways to balance our energy.  Is there such a thing as a 'signature' or 'personal' crystal that is especially compatible with who we are?
Everyone has a favourite crystal.  Sometimes that favourite changes depending on any significant shifts that have occurred within a person, but it really is down to personal choice.  My favourite is labradorite, such a magical crystal.
Sometimes a person can be passionate about a particular crystal and tend to include that crystal wherever possible in a crystal healing.  One person I know loved clear quartz and another had a thing for black obsidian.  But a good crystal healer will use whatever crystals are applicable in each individual situation.  The client may be really stressed and a strengthening crystal such as clear quartz would only exacerbate that stress.  However, it is a perfect crystal for someone whose auric field is low in energy, but at the same time, there are several other crystals of a similar vibration which can be used just as well as clear quartz.
There are crystals that can be used by anyone, no matter where they are in their spiritual journey, and there are a few that are of more benefit to those who have already done a lot of spiritual work and cleared a lot of their old stuff.  However, after saying all that, anyone can meditate with any crystal that takes their fancy; crystals can bring some amazing insights as well as taking you on wonderful journeys within your meditations.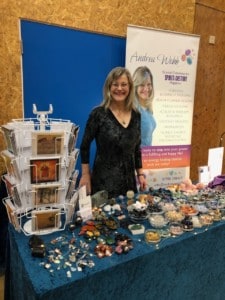 What additional healing services do you offer?
Everything I do is related to vibration, and it started with colour.  I have always loved colour, and when I started exploring spiritual and healing topics, I was delighted to learn of the existence of colour therapy/healing.  Every colour has its own meanings and associations.  The method I work with is by using a spine chart adapted from the original designed by Theo Gimbel, to determine what colours a client is already working with and what colours would benefit them by introducing them into their auric field.  This is then followed by colour healing.  It is a completely different concept to the Aura Soma or Colour Mirrors systems for example.
I also work with Bach Flower Remedies, a system created by Dr Edward Bach during the 1930's.  Following the loss of my father, I was introduced to these remedies and discovered for myself how powerful they are.  There are 38 remedies for every type of emotional response, plus the well-known Rescue Remedy.  They work very subtly and as already mentioned, are very powerful.  As we are complex creatures, we can experience a variety of emotional responses and I can create a perfect prescription of these remedies on an individual basis.
I also offer stress healing and stress therapy.  Stress healing involves visualisations and healing with crystals and the use of Bach Flower Remedies.  Stress therapy is similar and is used when stress healing is not quite enough.  It focuses much more on visualisations rather than using crystals and flower remedies.
On a personal level, do you have any non-negotiable routines for self-care?
There are two things that I feel are imperative for self-care; the first is ensuring the self is  grounded and the second is to have a strong energy field, also often referred to as protection.  When you have these in place, you are less likely to feel stressed or experience any of those niggly little complaints that can accompany stress.  They also help with self-confidence and self-esteem, especially when there is a need to say 'no' to something and stand in your own power.  Both of these things can be achieved by a short visualisation of imagining roots growing from the base of the spine, travelling and anchoring deep into the earth, and then seeing yourself in an egg of light, which will help to create a strong energy field and strong boundaries.
Clearing the energy field is also important as you don't want to carry around emotional stuff that no longer serves you.  We don't need to be weighed down by old baggage.  Again, this is an easy visualisation and can be done when showering, by imagining light flowing down, clearing away the emotional and mental debris, and it all gets washed away.  This really lightens the load we carry; we can actually feel lighter within ourselves.
I am really lucky in that I live in the country, and I only have to look outdoors to see the green fields with horses grazing on them. At the back of me are water meadows and there are often swans swimming on the temporary pools of water during the winter.  It's so very calming and peaceful and always brings me back to a place of equilibrium.
Any tips to share with our readers on finding balance and maintaining positive energy?
In addition to the suggestions above, try to get out into nature as often as you can.  Even if it's just a local park; having the grass and trees around really helps bring us back into balance.  If there are flowers to see, then I feel that is an added bonus, bringing beauty into the picture too.
Exercise is always good, and it doesn't have to be at the gym; taking a walk in beautiful surroundings is just as good.  Or perhaps dancing; dancing around the kitchen is always good fun providing lots of endorphins, which keeps us happy and healthy.  Drinking enough water and having a balanced healthy diet is good for the soul.  Perhaps try growing your own fruit and vegetables if you have space to do so.  When eating something homegrown it gives you a buzz in a way that you never get when eating shop bought produce.  And sleep, good quality sleep is so necessary for our well-being.
Obviously healing helps with balance and maintaining positive energy, whatever your feel drawn to.  Sometimes all it takes is a massage to get rid of those kinks in the shoulders.  Understandably, I'm partial to crystal healing, but really anything you enjoy, be it aromatherapy, reflexology, sound baths, yoga, whatever makes you feel good will help you achieve balance within.
With light and love
Andrea
Email info@andrea-webb.com